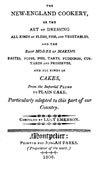 The New England Cookery, Or The Art Of Dressing All Kinds Of Flesh, Fish, And Vegetables, And The Best Modes Of Making Pastes, Puffs, Pies, Tarts, Puddings, Custards And Preserves, And All Kinds Of Cakes, From The Imperial Plumb To The Plain Cake. Particularly Adapted To This Part Of Our Country
Written by Lucy Emerson
Montpelier, VT: Printed for Josiah Parks, 1808.

Here are some recipes from the book.
To Stuff and Roast a Goslin
To Alamode a Round
To Make the Best Bacon
To Boil a Ham
To Boil a Cod
To Fry Trout
To Fry Chickens